Teeth whitening
Teeth whitening is a proven and successful treatment to improve the colour of your teeth and your smile.  It is a safe procedure and has a long track record of success.
The teeth have an outer enamel layer, which is the layer we see.  Genetics determines the thickness and whiteness of the enamel.  Lifestyle then can alter this colour, smoking, diet, medications, over brushing and using very abrasive toothpastes can change the colour of the enamel making the teeth appear darker.
Teeth whitening is not a one off single treatment.  The enamel of teeth darken over time with the enamel layer of the teeth absorbing stains.  This continues to happen following whitening so top up treatments are required to maintain a white smile.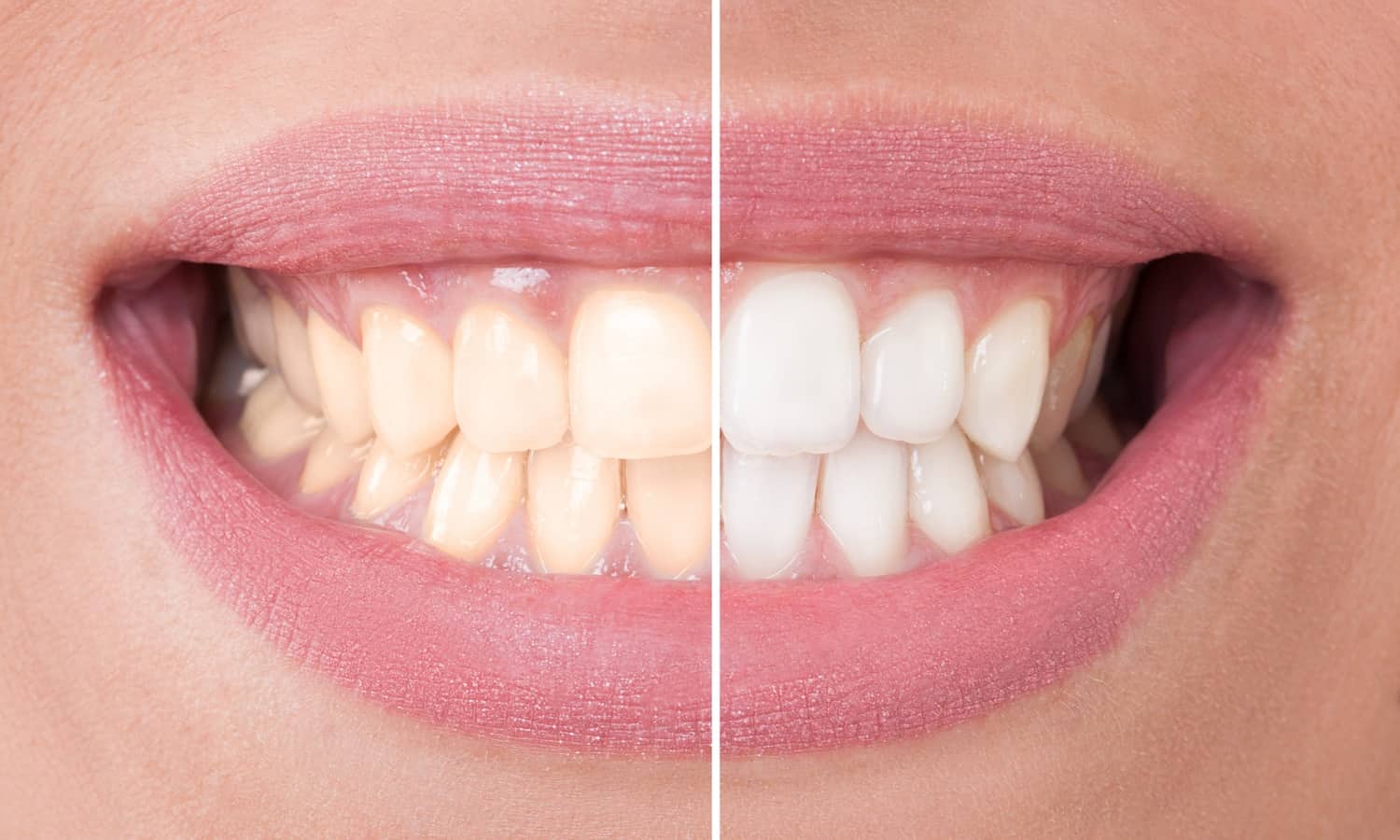 Take home whitening
There are several types of whitening procedures available – we have selected the Take Home whitening trays method as this method is proven to be the most successful plus provides an easy and effective means of maintaining your new white smile.
You will require an assessment – this is to ensure you teeth will whiten well.  Everybody varies – the end result depends on the starting shade of your teeth.  We will assess your teeth to and advise of the results you can expect.
Your teeth may need a good cleaning to remove surface stains and deposits.  Any decay will also be assessed.
The whitening products whiten teeth but not fillings or porcelain crowns and veneers.  This is a point you need to be aware of.
Models are taken of your teeth and a custom made tray is made specifically for you.  You will be given a take home kit of whitening.
Over the counter treatments can be bought, these contain a lower strength product and therefore the results are not as good.  We will provide you with a higher strength, more effective product.
What can I expect?
A brighter whiter smile 😉.  We will show you the shade they will most likely become.  Generally the whitening process takes about 2 weeks where the custom made trays are worn either overnight or for 30mins-1hour daily.
Some people experience sensitivity – we can help you mange this while still achieving a great new smile.  Sensitivity is a temporary effect.
Your gums may become a little irritated.  Again this is temporary and we will show you how to help prevent this happening.
If pregnant – it is advised that you do not whiten your teeth.  This is a cosmetic procedure and can be done after the pregnancy.
Your teeth will darken with time again and you may find you wish to do a top up in 6+ months.  Keep you trays and do a top up as required, this may only take a few days to bring them back to the colour you want.  You can also do a top up if you have a special event coming up.
Whitening is a really successful and safe procedure.  We would be happy to explain the results that you can expect to see.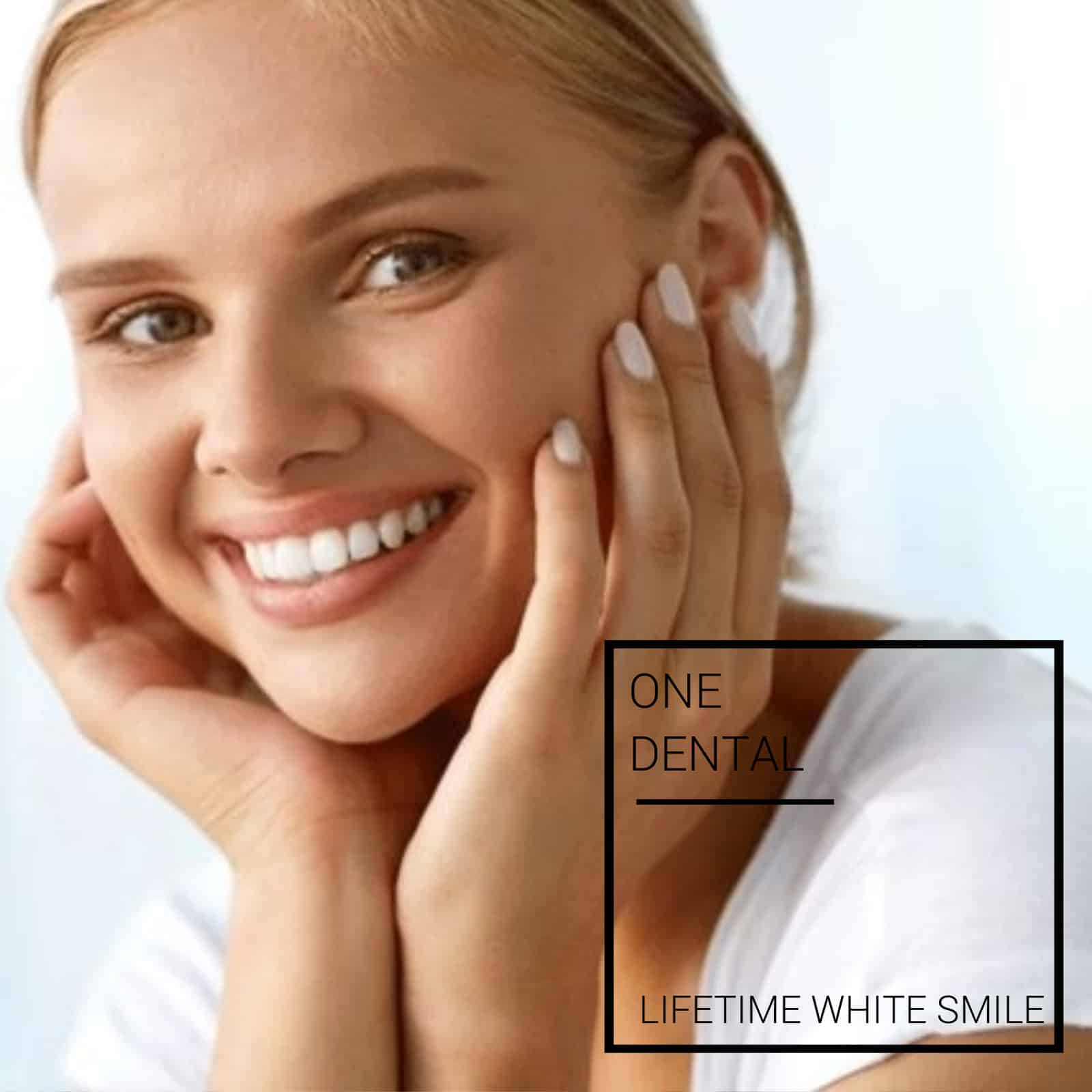 LIFETIME WHITE SMILE OFFER
At One Dental we a have a lifetime offer of
Get a white smile and keep a white smile*. 
Visit us for Teeth Whitening Treatment and we will give you a white smile for life.  Every year when you return for your dental hygiene treatment you will receive a free top up syringe.
*Terms and Conditions Apply:  Whiten is not suitable for all teeth types.  We can advise if it will work for you.  Teeth darken again with time, the free syringe will help maintain the whitening.  To find out about teeth whitening and if it may work for you, please read the article above.
575 Main Road Stoke Nelson
Mapua - One Dental
66 Aranui Road
Maupa
Tasman 7055
035403440
office@onedental.co.nz